Two book reviews for Xmas/Channukah/Kwanzaa /belated Diwali
First, Carl Hiaasen's Nature Girl, a silly interwoven plot that magically becomes untangled at the end. Not really all that great.
Second,
Absurdistan
by Gary Shteyngart. This is a better book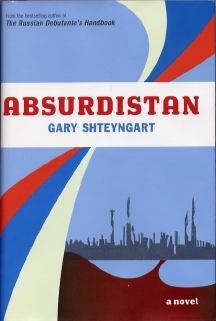 than the first, which is entirely gratuitous.
Absurdistan
presents to us the character of "Snack Daddy," who is actually Misha Vainberg, who is really searching for something, but of course he's not really sure what it is. He is an engrossing character, things happen to him that are entirely normal in the Russian mafia- and oil-rich former Soviet republic world that he lives in. But they're not normal for us, and we like him are trying to get our heads around it while we try to see him down a path towards happiness. I'm not finished with this book, but it is humorous and interesting.....fancy that. I especially liked that the author places a parody of himself into the plot of the book, a character whom Misha utterly despises.